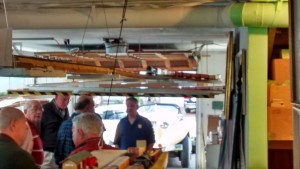 The club met at Jim Sweeney's home to inspect the new helix. This was installed to reduce the grade to get from the lower to the upper level in the next room. Looks like the inspectors are on the brink of approving the helix.
We also discussed our new modular layout. There was one table completed to the point of some track installed. Too bad somebody forgot to bring the legs so we had to look at it on the floor. We ironed out some more specifications, which are being refined as we begin to build the modules.
Other topics for the day: O/S West in May (increasing our involvement) and a possible new car to be produced by the BASS group for S Scale.